ADlink helps improving production processes with autonomous mobile robots at idealworks
Industry & Supply Chain - Transport - AI - Robotics - 2021/06/16


This article is provided by ADLink
---
Offer Customers the Power of Choice
Key to the success of the BMW Group is letting their customers "decide for themselves what they want and desire."1 This is manifest in giving customers the power to choose between an average of 100 different options across the 40 car models BMW produces.
Essentially, each customer order is different, requiring BMW's production processes to be highly flexible and dynamic. BMW's production of build-to-order cars requires a logistics process which guarantees that the right parts arrive at the right assembly line at the right time. Every day, 230,000 different types of parts are organized into trays to produce 10,000 cars.
Many of these parts are transported to assembly lines using automated-guided vehicles (AGVs). Lacking robotic arms, intelligence, and flexibility, the AGVs are unable to load themselves or plan and navigate routes because they cannot perceive their surroundings.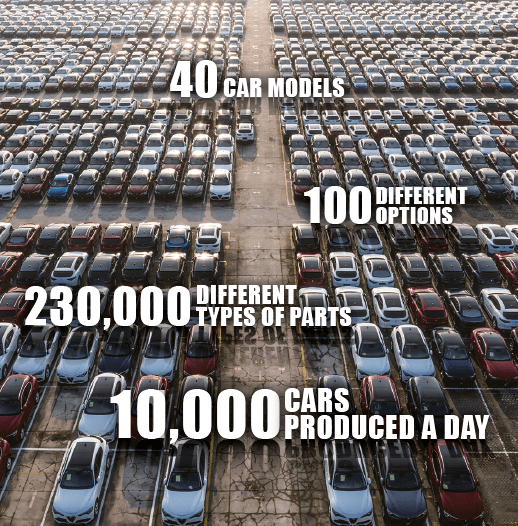 To increase efficiency in logistics, BMW decided to replace the AGVs with a fleet of autonomous mobile robots (AMRs) capable of handling and transporting production material without human intervention. The company's wholly-owned subsidiary, idealworks was tasked with bringing the power of artificial intelligence (AI) to logistics processes, starting with the design of autonomous robots (Figure 1). idealworks turned to NVIDIA and ADLINK for support in developing the necessary software stacks and robust, edge AI computing platform.
Today, cloud-based fleet software manages the autonomous robots, assigning tasks based on their availability and location, thereby increasing their efficiency, productivity, and ability to work collaboratively with one another – and with humans.
Business Challenge: Improve Material Flow Efficiency
The massive variability in production presents a huge logistics challenge, in that every day, tens of millions of parts must be transported around, e.g., BMW's assembly lines. Moreover, the assembly line environment is very dynamic and often congested, presenting additional material flow difficulties. The company sought to leverage AI and robotics technologies to take their just-in-time, just-in-sequence manufacturing processes to new heights.
Technical Challenge: Design AI-Based Robots
idealworks designed autonomous robots from the ground up, combining a performant AI software stack and compact, high-performance computing hardware that can reliably and quickly perform data-intensive, complex AI computation while withstanding the harsh assembly line conditions. AI algorithms enable simultaneous localization and mapping (SLAM), navigation and guidance, collision avoidance, and object pose estimation.
Solution
idealworks developed the AMR, iw.hub, and the fleet management software, AnyFleet, which complies with the VDA 5050 standard for unified operation of AGVs, forklifts, and AMRs from different manufacturers in the same working environment.
Ruggedized Robots
The AI-based robots required high-performance computing platforms that could operate reliably in stringent industrial conditions, like high vibration and physical impact. idealworks decided to build a custom solution and selected ADLINK to develop the compact, DLAP-401 edge AI platform.
The compact DLAP-401 computing platform addresses size, weight, and power (SWaP) constraints of transport robots, like running on a single battery charge for at least a full shift. The platform performs time-sensitive AI computations to plan routes and navigate safely on high-traffic factory floors while avoiding deadlock situations. DLAP-401 supports passive cooling or active cooling with easy-to-remove fans to simplify maintenance.
With input from idealworks, ADLINK engineered, tested, and manufactured a specialized industrial housing that is impact-resistant and drop-proof. The compact, ADLINK edge AI platform connects to idealworks' hardware via custom connectors.